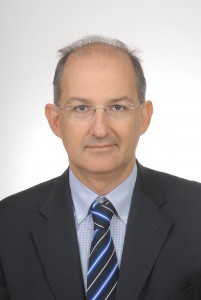 It is with great honour and emotion we announce that the first "Kostas Nittis medal for Operational Oceanography" will be awarded during the celebration of the European Maritime Day 2015, which will take place in Athens on 28 May.
Following the unexpected passing of our Secretary General Kostas Nittis in July 2014, we have established a medal to honour his memory and efforts to promote European cooperation in marine science and his vision for a sustained and coordinated European ocean observation system. The medal will be awarded each year to a young scientist with exceptional contribution to operational oceanography, nominated by EuroGOOS members, and it will be accompanied by a prize to support the scientist's participation in international symposia.
This year the medal will be awarded by the DG MARE Commissioner Karmenu Vella before the official opening of the European Maritime Day, on 28 May in Athens. More information on EMD can be found here.
The post Kostas Nittis medal to be awarded during European Maritime Day in Athens appeared first on EuroGOOS.