The DOORS project (June 2021-May 2025) is a research and innovation action under the European Union Horizon 2020 programme. The project aims at implementing the Black Sea Strategic Research and Innovation Agenda (download) with stakeholders and other projects and initiatives in the region. DOORS will address research and infrastructure to better understand the Black Sea, develop and implement an ecosystem-based framework for Blue Economy, inform policy development and implementation, and promote behavioural change towards sustainability. 
In DOORS, EuroGOOS is leading work package on stakeholder engagement and participates in other work packages to facilitate a smooth and integrated engagement activity throughout the project. 
The post Developing Optimal and Open Research Support for the Black Sea (DOORS) appeared first on EuroGOOS.
Our 9th International Conference has been an overwhelming success. 450 participants from 45 countries joined our online event tackling all aspects of operational oceanography. A total of 90 scientific presentations were given in parallel sessions and 22 posters presented, while international speakers shared their insights on coordination, governance, and impact in our five plenary sessions.
At the closing we asked our audience about their key takeaways and among the many answers one came in most prominently – integration. Our new 2030 Strategy, launched at the conference, is addressing the integration needs though various key themes, such as expanding and enhancing the communities of practice and partnerships, as well as joining efforts more efficiently and impactfully in common advocacy, public mobilization, and interactions at science-policy interface.
Integration is not something that happens at once. The communities represented at the 9th EuroGOOS Conference have demonstrated through their diverse voices and a joint imperative to foster co-production of oceanographic services and value to society, that this integration is ongoing at full steam. To help this process, we will deliver not only the conference proceedings but also the conference recommendations which will set out a list of priorities for our members and partners in the coming years, aligned with our vision and strategy.
EuroGOOS Chair George Petihakis presented the key messages of this statement in the conference closing. Those are:
Operational monitoring, data provision, and services for ocean health and climate – seamless Earth-system approach, synergies between operational, environmental, and climate research and monitoring, enhanced biology and bio-geo-chemistry observations and data delivery;
Common approach to strengthening marine Research Infrastructures – joint observing system implementation, stronger user engagement and capacity building, joint actions at international level;
Coastal oceanography – fit-for-purpose technologies, FAIR, timely & interoperable data, metrology standards towards Ocean Digital Twin, user-friendly interfaces;
From acquisition to modelling – EuroGOOS and EOOS supporting sustainability of in situ systems, shared standards and practices, user engagement in co-design, improved data assimilation, esp. in coastal areas and for bio-geo-chemical and biological modelling;
User-oriented products and services – targeted interactions with users, clear messaging, technological cooperation, best practices;
Big data and artificial intelligence – FAIR data management plans for transdisciplinary analyses with AI, training in machine learning and programming, collaborations between marine and computer scientists;
Contribution to the UN Decade of Ocean Science for Sustainable Development – co-production of new products and services, data aggregation, advocacy for sustained operations, international partnerships;
EOOS Framework – linking European ocean observing networks, stakeholders, and initiatives, stakeholder engagement and co-design, synergies across disciplines, interface between national and pan-European ocean observing management.
Co-design and co-production of science, models and forecasting will bring the needed paradigm shift in ocean observing to deliver better and timelier knowledge to society. At the heart of this are partnerships, integration, capacity development and diversity.
Our Conference platform with all its contents (the programme, posters, breakout will remain open for the coming year. The permanent conference website hosted by Ifremer will contain all conference outcomes, including the speakers' slides, video recordings, proceedings, and the conference statement.
The post Key takeaways from the 9th EuroGOOS International Conference appeared first on EuroGOOS.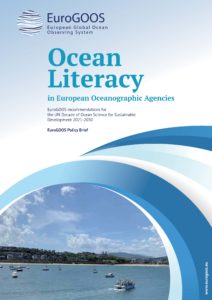 Our new policy brief gives recommendations on how to enhance Ocean Literacy activities in oceanographic agencies. The brief was developed from the work of the EuroGOOS Ocean Literacy Network and a survey the network conducted across 11 organizations in Europe. The survey unveiled an outstanding diversity of activities, demonstrating that Europe is advancing towards making Ocean Literacy part of the mandate of oceanographic agencies and meteorological offices.
The extent of the activities dedicated to increasing public engagement and awareness carried out by these organizations, whose core mandate is mainly linked to scientific and technological aspects of ocean data and services, calls for a stronger voice for Ocean Literacy as a recognized and active force in today's oceanography.
From local and national to global levels, Ocean Literacy enables science to engage with policy and society on the topics of ocean sustainability, observations and research, and the importance of oceanography. EuroGOOS has been showcasing and connecting the variety of Ocean Literacy competences among its members and partners.
The success of the United Nations Decade of Ocean Science for Sustainable Development 2021-2030 will rely on sustained and fit-for-purpose ocean observing and derived oceanographic information and services. Ocean Literacy tools and approaches are needed to increase societal and policy awareness of the needs, challenges, and opportunities of the ocean observing enterprise. Furthermore, Ocean Literacy is important for achieving sustained operations and funding of the ocean observing systems, maintained predominantly by public funding.
Download the EuroGOOS Policy Brief 
The post EuroGOOS Policy Brief: Ocean Literacy in European Oceanographic Agencies – Recommendations for the Ocean Decade appeared first on EuroGOOS.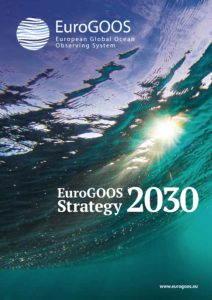 Today, at the 9th EuroGOOS International Conference, we have launched the EuroGOOS Strategy 2030. The new Strategy and its five objectives will guide our community of members, Regional Operational Oceanographic Systems (ROOS), networks of observing platforms, and working groups.
EuroGOOS is a Regional Alliance of the Global Ocean Observing System, which brings together oceanographic systems around the globe. The EuroGOOS 2030 Strategy underpins the implementation of the Global Ocean Observing System 2030 Strategy and expands the EuroGOOS strategic foci to include the operational monitoring, data provision, and services for ocean health and climate. This Strategy will strengthen the contribution of the EuroGOOS large network of organisations to the UN Decade of Ocean Science for Sustainable Development 2021-2030.
Chair George Petihakis said, "Since its foundation in 1994, EuroGOOS has been pivotal in advancing pan-European cooperation in oceanographic research, technology development, capacity building, and data sharing. In our new Strategy we have identified five objectives which will help our community of over 130 organizations to jointly deliver a fit-for-purpose and integrated operational oceanographic system and services to society".
As the ocean is undergoing dramatic changes, it is imperative to have the relevant information across all scales to better understand and protect the ocean and its ecosystems. Adaptive, integrated, and sustained ocean observing systems are needed to underpin data and information for a range of users and respond to the policy needs. The European Ocean Observing System (EOOS) framework development, together with the implementation of the EuroGOOS 2030 Strategy, will form a powerful effort of the European ocean observing community to step-up the delivery of the ocean knowledge and information.
Download the EuroGOOS 2030 Strategy 

EuroGOOS 2030 Strategy (1.0 MiB)
The post EuroGOOS 2030 Strategy launched! appeared first on EuroGOOS.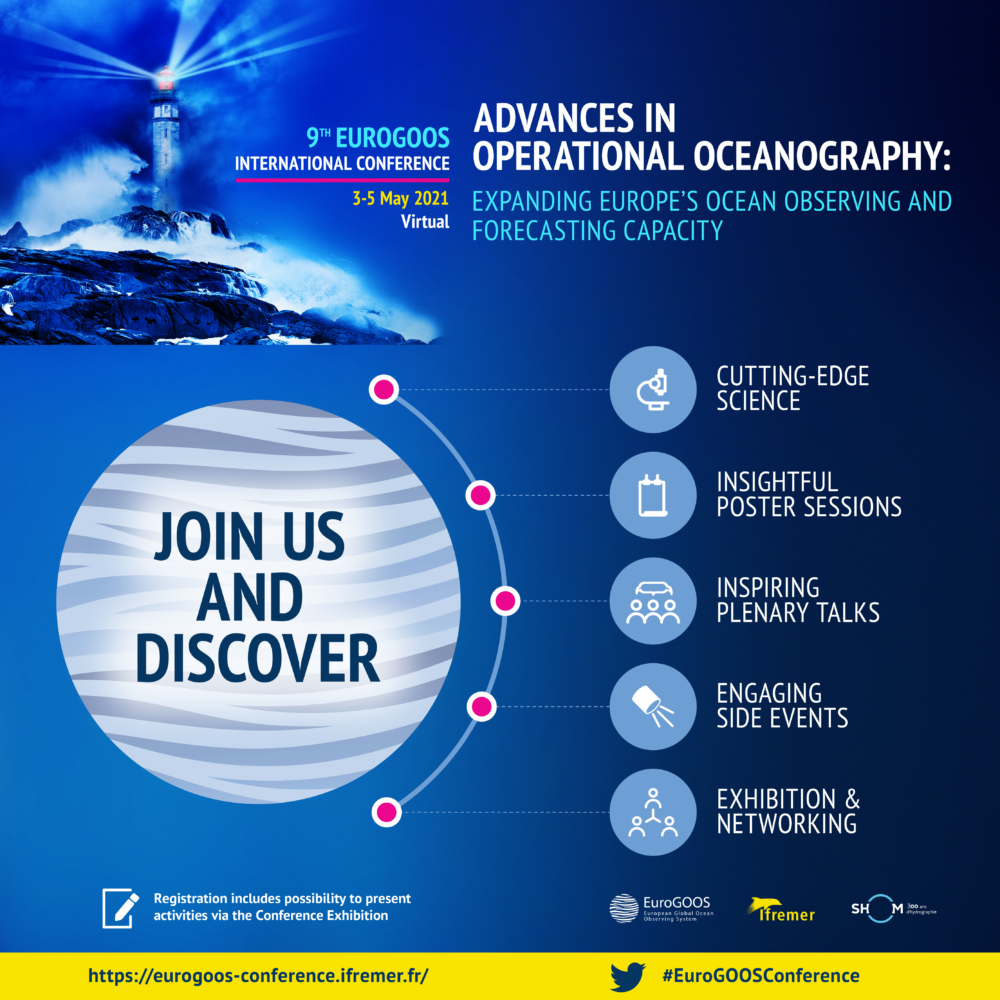 The EuroGOOS Conference brings together managers, developers, and users of ocean observing and operational oceanography products and services. The conference fosters dialogue, experience sharing, and future planning with European and international partners and stakeholders, towards a more coordinated response to societal needs related to the ocean.
The first virtual edition of the conference will offer a vibrant scientific programme on oceanographic methods, technologies, and applications, spanning ocean physics, health, and climate. Our marketplace is an opportunity to showcase your work, while the interactive meeting platform will ease networking and matchmaking worldwide.
We invite a broad range of stakeholders in ocean observing and operational oceanography, from scientists and technologists to businesspersons and policymakers. Together, we will debate ways to achieve a sustained and fit-for-purpose European Ocean Observing System and support the UN Decade of Ocean Science for Sustainable Development as well as the European Green Deal. The event will address synergies between European ocean observing networks and initiatives and the integration of data and knowledge for societal benefits.
To register, please access the conference virtual platform – Register now 
Step-by-step instructions are available here. Participation is free but registration is mandatory.
Download the conference flyer: 

9th EuroGOOS International Conference 2021 Flyer (1.0 MiB)
Download the conference programme overview: 

EuroGOOS Conference 2021 Programme Overview (1.8 MiB)
The EuroGOOS Conference is organized by the offices of EuroGOOS, Ifremer, and SHOM, who together with the EuroGOOS Executive Directors Board and Co-Chairs of the EuroGOOS Regions (ROOS), form the programme committee.
The post Registrations open for the 9th EuroGOOS International Conference taking place on 3-5 May 2021 appeared first on EuroGOOS.
The EuroGOOS Ocean Literacy Network took part in the 1st Ocean Literacy Course organized within the UN Decade of Ocean Science for Sustainable Development 2021-2030. The training development was led by IOC and its Ocean Teacher Global Academy. Virtual classrooms brought together a wide range of people from various sectors of society and occupations around the topic of Ocean Literacy. Teachers were gathered from practitioners and managers from around the world. 
In this course, we shared our passion for ocean observing which underpins all activities at sea, as well as our weather and climate predictions, and presented two case studies from the EuroGOOS Ocean Literacy Network.
EuroGOOS member SOCIB, the Balearic Islands Coastal Observing and Forecasting System, presented a study on "The Sea of Science" contest in Spain: a nationwide artwork, video, and storytelling competition for primary and secondary schools. SOCIB strongly believes that researchers have an obligation to inform the public of their work and to encourage open dialogue about an area of science that is likely to have a huge impact on people's lives, bringing marine sciences and scientists closer to the public. In the "The Sea of Science" contest, students immerse themselves in marine sciences through artistic expression, showing their relationship with the ocean, and their views about its state and oceanographers' work. The competition also involves teachers, education centres, and families. It promotes an inspiring and engaging ocean and helps citizens understand the ocean value and importance.
Two other members of EuroGOOS, the Institute of Marine Sciences of the Italian Research Council, CNR-ISMAR, and Istituto Nazionale di Geofisica e Vulcanologia, INGV, shared a case study on the project "SeaCleaner" focused on the problem of anthropogenic waste in the marine environment. Since 2013, "SeaCleaner" has involved more than 1,500 pupils, researchers, and citizen volunteers in the monitoring of Anthropogenic Marine Debris accumulated on Italian coasts. Within this project, a data acquisition protocol was defined for the collection and cataloguing of the different types and sizes of these waste items, based on protocols used at European level, was simplified and adapted to the local specificities, to allow its use by volunteers and also by high school students, thus combining research and education. The activity involved environmental NGOs, volunteers, and five Italian Marine Protected Areas surrounding the Pelagos Sanctuary.
At the training session, led by Francesca Santoro, IOC Programme Specialist developing Ocean Literacy at UNESCO, the EuroGOOS members' Ocean Literacy efforts were presented by Dina Eparkhina, the Network's coordinator. Download the EuroGOOS slides and discover the images from the "The Sea of Science" and the "SeaCleaner" case studies below. 

2020 02 17 IOC Ocean Literacy Training (1.3 MiB)
The post IOC-UNESCO's First Ocean Literacy Course of the Decade of Ocean Science for Sustainable Development appeared first on EuroGOOS.
EuroGOOS welcomed the opportunity to react to the European Commission's public consultation on the initiative titled 'Ocean Observation – Sharing Responsibility'. In November 2020, we submitted to the Commission our feedback on the inception impact assessment of this initiative . In that document, we outlined a EuroGOOS vision on the status and priorities for the European ocean observing coordination and shared a set of relevant studies and documents. 
The EuroGOOS response to the Commission's consultation was submitted on behalf of the member organizations – 44 national oceanographic institutes, hydrographic agencies, met offices, and foundations from 18 European countries. 
EuroGOOS supports a European Union initiative to bring together all Member States' public bodies responsible for ocean observation to develop priorities and realise opportunities for sharing effort, as well as a stronger EU funding support towards observations of common benefit. European ocean observing must be able to respond to a wide range of societal needs, well identified in many documents by our community and partly listed in the Commission's consultation survey. Ocean is an interconnected system which requires integrated approaches to collecting and analysing its information and responding to the needs of the users. Priorities in funding and support should be identified very carefully to not put in jeopardy an integrated assessment of the ocean's pressures and our management actions.
Sustained and coordinated ocean observing is paramount for accurate forecasts of the ocean state and conditions critical for maritime economy, human health, and security. Coordination between sectoral players (agencies for ocean health, fisheries, climate, operational services, etc.) at the sea basin level is crucial. Innovative regional observational technologies should be incorporated in the monitoring and observing programmes to provide data with the appropriate resolution in time and space to assess the ocean status and progress towards environmental targets and the Good Environmental Status. Coordinated ocean observing will also boost European competitiveness in ocean technologies, including infrastructures, sensors, or e-infrastructures.
Enabling and improving multi-disciplinary training of personnel is key, as well as attracting and keeping personnel in oceanographic jobs, including a growing need in informatics and data curation specialists, as well as promoting training exchange among institutions.
Ocean observing must become a shared priority between the Members States and the Union with effective governance at national, regional sea, and European levels. The EU needs integrated, sustained, and fit-for-purpose ocean observing to deliver on the EU Green Deal and the Biodiversity Strategy, Europe's Agenda 2030 contributions, the blue economy goals, and to develop integrated tools to understand the evolution of the climate and the marine environment, like a Digital Twin of the Ocean. There is a lack of knowledge among nations about each other's activities leading to inefficiencies that result in slow progress in monitoring, modelling, blue technology evolution, and ocean knowledge and information availability with, at the end, user needs, and sustainability targets not being met. 
Nations should take responsibility to sustain ocean observations in their countries, and these activities should be coordinated at regional and pan-European levels. Stronger EU funding support should be directed towards observations of common benefit. A combination of EU and Member States' support towards ocean observing sustainability will help achieve policy coherence, support dialogue towards common solutions and identification of synergies and trade-offs, shed light on potential or perceived barriers, and sustain ocean observing efforts over time beyond research, funding, or electoral cycles.
Ocean is the largest shared natural resource of the European Union and stronger collaboration between atmosphere, land, marine, and social research communities is critical to homogenize and enhance the quality of operational products at the interfaces of those domains. The European Commission's support towards better planning of the ocean observing activities will have positive influence on other environment monitoring areas as well as security.
Sharing ocean observing capacity and joint planning of activities will contribute to better equity in science, technology, and innovation, making ocean observations a public utility. The scientific advancements allowed through a better coordination of European ocean observing efforts will underpin the implementation of the UN Decade of Ocean Science for Sustainable Development.
Download the EuroGOOS statement submitted with the consultation survey response 

EG21.03 European Commission Ocean Observation Consultation – EuroGOOS Feedback (172.2 KiB)
The post EuroGOOS response to the European Commission consultation 'Ocean Observation – Sharing Responsibility' appeared first on EuroGOOS.
The EuroSea Annual Meeting took place on 18-22 January with the project's General Assembly taking place on the last day.
The EuroGOOS Office co-leads work packages 1 (Governance and Coordination of ocean observing and forecasting systems) and 8 (Engagement, Dissemination, Exploitation & Legacy) and is represented on the Gender and Diversity Board, while many EuroGOOS members and ROOS representatives are project partners.
The week showcased progress in the first 14 months of the project and featured invited talks from the colleagues at IMOS and GOOS, as well as several EuroSea-related EU projects. The EuroSea Gender and Diversity Board invited a lecture on Women in Oceanography from Britta Thege of Kiel University of Applied Sciences and held a session to discuss the results of the survey conducted among the EuroSea consortium members. Inga Lips (EuroGOOS Secretary General) presented the EOOS framework developments. Dina Eparkhina (EuroGOOS Senior Policy and Communications Officer) and Emma Heslop (IOC-GOOS Programme Specialist) organized a session on EuroSea impact monitoring. A series of Scientific Lunches were held during the lunch breaks with a wide range of presentations from the EuroSea experts. At the General Assembly, George Petihakis (EuroGOOS Chair) was elected as member of the EuroSea Executive Board to fill the seat left vacant after the departure of Glenn Nolan from EuroGOOS.
Discover a summary of the event on the EuroSea website.
The post EuroGOOS at the 2nd EuroSea Annual Meeting – towards integrated European ocean observing and forecasting appeared first on EuroGOOS.
Moving onto a new year which will mark the beginning of the UN Decade of Ocean Science for Sustainable Development, let us look back at the year we are leaving behind. 2020 will be remembered by the global pandemic that affected our Members and team, both personally and professionally. Operations at sea were stopped, engagement opportunities frozen, life-work balance strained – just to name a few of the challenges we faced this year. But incredible as it was, the EuroGOOS Members and the Office achieved new heights and supported some major organization's actions for the coming years.
Our new 2030 Strategy was adopted by the Members at the EuroGOOS General Assembly in June. The Strategy sets out an ambitions framework to foster our impact and engage more strongly with all areas of ocean observing. For years, EuroGOOS has strengthened operational oceanographic cooperation, and has contributed to the delivery of some of the core European operational services we have today. The new 2030 Strategy will help us expand to the areas of operational data collection, forecasting and service provision for ocean health and climate. We will continue fostering communities of practice, partnerships, and advocating for ocean observing sustainability and fitness for purpose. We will also continue making societal engagement part of our priorities. Citizens' understanding of the importance of oceanography and value it brings to their daily lives – from weather predictions, to climate research, to maritime operations and coastal security – is key to sustain our work.
We welcomed our new Secretary General and first woman to hold this position in EuroGOOS' 26 years of history, Dr. Inga Lips. We wish to thank Dr. Glenn Nolan who held this position for the last five years. The Office has also grown with new members joining the team.
44 Members of EuroGOOS from 18 countries and our five Regional Operational Oceanographic Systems (ROOS) were engaged in our Working Groups and Task Teams which bring European added value of cooperation in various areas of oceanography. Through meetings, research, and engagement with stakeholders, we believe our activities have made EuroGOOS much stronger this year. These achievements are too many to list and span coastal services, infrastructure reviews, ocean literacy, and new observing technologies. To strengthen the joint impact of the EuroGOOS numerous bodies, integration workshops took place to enhance the transfer of best practices and cross-fertilization.
An external review was conducted for the first time, providing key insights into the various aspects of EuroGOOS activities, strategy, and way forward. The review highlighted the unique and well-established role of EuroGOOS as a hub and voice for European ocean observing adding value to its Members and broader community, catalyzing new ideas and initiatives, strengthening regional coordination, and enhancing synergies among stakeholders.
Several projects started their active work in 2020 in which the EuroGOOS Office represents the priorities of the organization – all contributing to various aspects of the ocean observing and forecasting value chain. These are: EuroSea, Jerico S3 and Jerico DS, FORCOAST, and a new Copernicus In Situ Coordination project. SeaDataCloud project ended having achieved new important milestones towards quality ocean data aggregation at the EU level.
We have continued to actively work with partners towards a shared European Ocean Observing System framework, EOOS. The EOOS implementation plan, adopted in 2018, was updated with more actions completed – such as the EOOS Technology Forum, organized by our Technology Plan Working Group. We have helped strengthening the EOOS governance working with the European Marine Board with whom we co-chair the EOOS Steering Group and Advisory Committee. The EOOS Operations Committee started its work in late 2020.
This has been another fruitful year for EuroGOOS despite the unexpected and severe pressures caused by the pandemic we all have experienced this year. We wish to recognize the enthusiasm and continuous belief in EuroGOOS by our Members and ROOS, as well as the dedication and professionalism of our tireless Office team. Let us list the members of our Office: Orla Colligan, Ana Lara-Lopez, Ruxandra-Laura Bosilca, Erik Buch, Vicente Fernandez, Dina Eparkhina, with Inga Lips at the helm of the team.
Merry Observing and Happy New Year!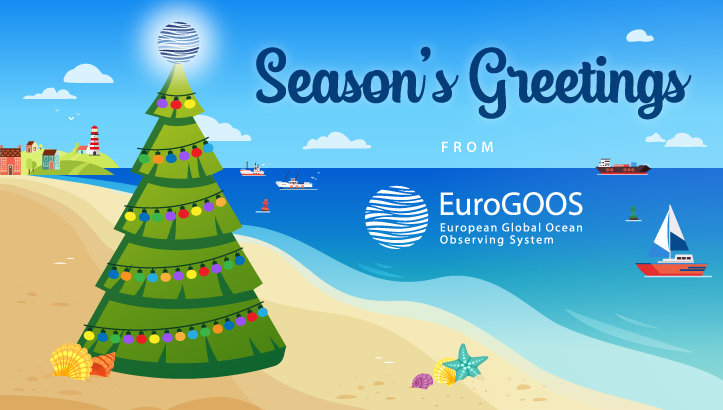 The post Looking back at 2020 and wishing you Merry Observing and Happy New Year 2021! appeared first on EuroGOOS.
Abstract submission is now open for the 9th EuroGOOS International Conference, Advances in Operational Oceanography: Expanding Europe's Ocean Observing and Forecasting Capacity, to take place virtually on 3-5 May 2021.
Held every three years, the conference aims to provide a review of current ocean monitoring and forecasting capacities and oceanographic services and map out new science and technology priorities. The event brings together a wide range of developers and users of operational oceanography services, and serves as a platform fostering the exchange of ideas and cooperation to find solutions to ocean-related global challenges.
Abstracts (maximum 1600 characters) should address one of the key themes and topics of the conference:
In-situ and remote sensing observations: towards a European Ocean Observing System (EOOS) in the framework of the UN Ocean Decade;
Ocean modelling and forecasting: extending and improving predictability: Global, regional, shelf and coastal forecasting systems, towards the Digital Twin of the Ocean;
Meeting end-user needs and supporting marine development.
Abstracts should be submitted via the online abstract submission system on the conference website before 15 January 2021 (23.59 CET).
Authors will be notified of acceptance or rejection by 15 February 2021 and final versions of accepted papers should be submitted by 12 April 2021 for publication in the EuroGOOS 9th International Conference Proceedings.
The post EuroGOOS International Conference: Abstract submission is now open appeared first on EuroGOOS.
---
See more in our News Archive