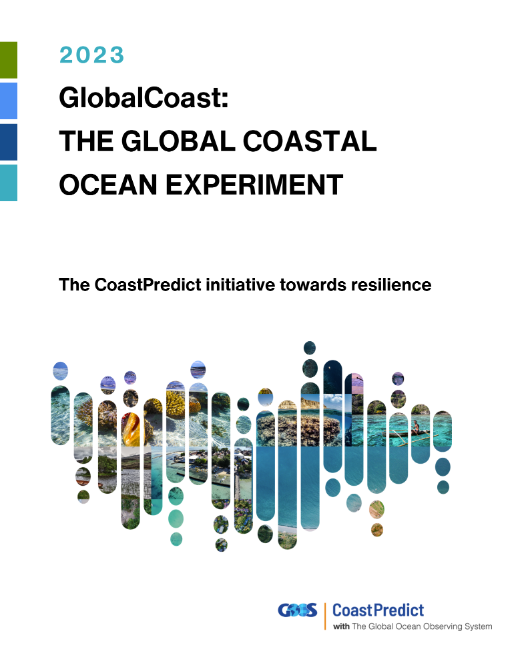 The Global Coastal Ocean Experiment is an initiative of the CoastPredict Programme of the UN Decade of Ocean Science for Sustainable Development 2021-2030 (UN Ocean Decade). GlobalCoast is a central framework for the coordination and practical implementation of the CoastPredict Programme.
GlobalCoast will coordinate implementation and integration of the science and technology advances from the CoastPredict focus areas in a range of regions using best practice principles in ocean observing, data management, modeling and co-design. This will provide advanced knowledge and innovative products and services to support coastal community resilience, and will develop the basis to re-characterize the Global Coastal Ocean.
The GlobalCoast survey is seeking to collect expressions of interest to lead or collaborate on Pilot Sites will be selected within regions of the global coastal ocean. These regions have specific large scale oceanographic regimes that might contain a number of different coastal, hydrological and ecosystem regimes. The selected Pilot Sites will be implemented by the CoastPredict Programme.
Fill out the survey now (deadline 4 October 2023)
Brochure about the GlobalCoast Ocean Experiment – download 
Read more about CoastPredict – here
The post Global Coastal Ocean Experiment – Call for Pilot Sites to implement transformational GlobalCoast activities! appeared first on EuroGOOS.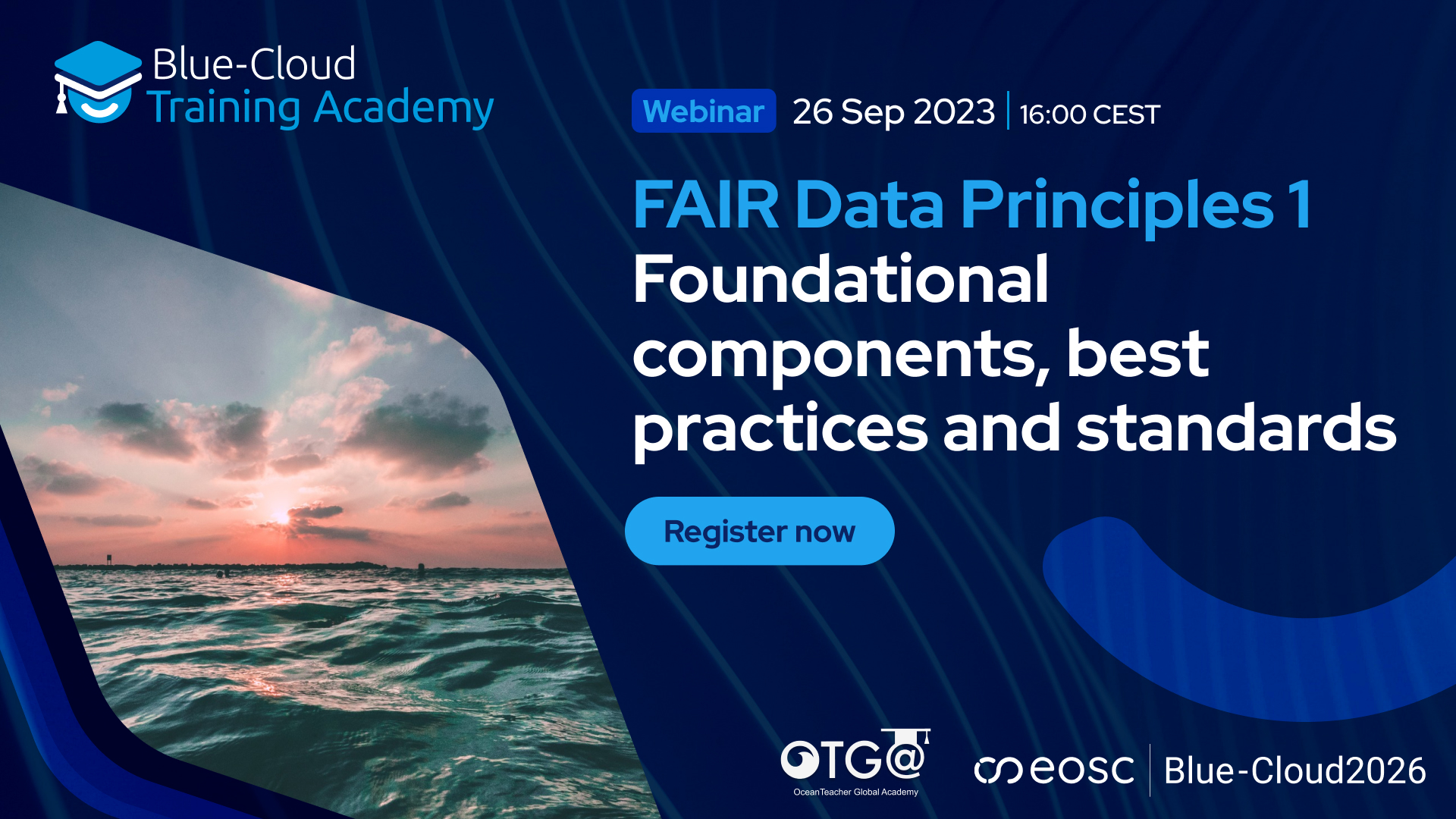 This webinar is the first in a series of three Blue-Cloud 2026 Training Academy webinars on FAIR Data Principles, to be held from September 2023 to March 2024.
The FAIR Guiding Principles for scientific data management and stewardship were first published in Scientific Data, 3:160018 [Wilkinson et al (2016)]. The principles apply to both data and metadata and are: Findable, Accessible, Interoperable, Reusable. They put specific emphasis on enhancing the ability of machines to automatically find and use the data, in addition to supporting its reuse by individuals. In pursuit of FAIR, there is a need for increased efforts in optimisation, standardisation, best practices and harmonisation across methodologies for ocean data management, applications and digital assets,
Webinar 1 will explore the challenges and solutions in applying the FAIR foundational components on the journey from FAIR Principles to FAIR Practices to achieve FAIRification in the marine data community. It will look at the standards and practices supporting interoperability and efficiency which focus on the findability and accessibility of data/metadata. Standards and best practices play a crucial role in implementing the FAIR Principles by providing a consistent framework and guidelines to achieve FAIRness targets. Approaches will vary, depending on the data lake, data space or repository structure and capabilities.
The post FAIR Data Principles 1: Foundational components, best practices and standards appeared first on EuroGOOS.
The EuroGOOS Office seeks an Office/Financial Administrator to support the EuroGOOS team in activities linked to the secretariat general administration and EU project/contract finances.
The position is for 4 years based in Brussels at the EuroGOOS Office, with the possibility of extension.
If you would like to apply for this position, please send your CV and a letter of motivation in English explaining why you are interested and why you are suitable for this role to Dr. Inga Lips, EuroGOOS Secretary General, by 27 August 2023.
The post EuroGOOS Office is looking for an Office/Financial Administrator appeared first on EuroGOOS.
EuroGOOS will join the European marine knowledge community for the Ocean Data Week, organized by ETT during the Ocean Race Grand Finale in Genoa from 27 to 30 June 2023. Conferences and workshops on ocean observing, forecasting, and services for blue economy will attract international audience and give credits to the students of the Genoa University.
On 27 June, Inga Lips, EuroGOOS Secretary General, will join the NAUTILOS Policy Round Table 'Supporting Ocean Observations'. 
On 28 June, Inga Lips will join the EuroSea day titled 'Towards a user-focused, interdisciplinary, and responsive European ocean observing and forecasting system'. This one-day conference will be moderated by Dina Eparkhina, EuroGOOS Senior Policy and Communications Officer.
On 29 June, the EuroGOOS work on ocean literacy and public engagement will be promoted in the session on 'Between biodiversity and sustainability: science to raise awareness, awareness to guide decisions' in Dina Eparkhina's setting the scene talk.
The Ocean Data Week will feature short and engaging presentations from key European initiatives in the domain of ocean knowledge and information. Public authorities, policymakers, universities, research centers, and maritime industries are invited to attend and contribute to this debate. 
Registration is ongoing here
Programme is available here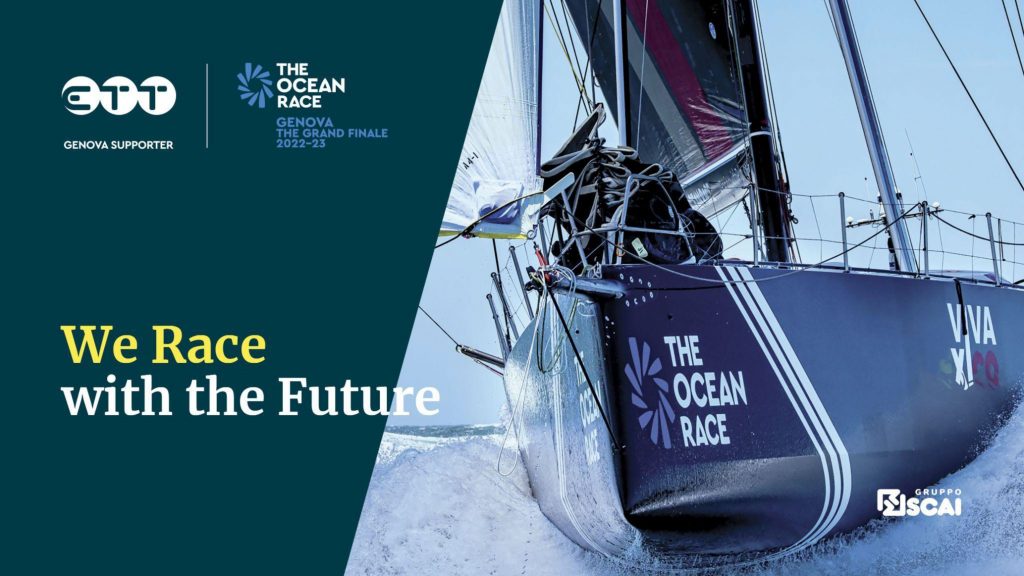 The post EuroGOOS joins Ocean Race Grand Finale in Genoa appeared first on EuroGOOS.

We are pleased to co-organize a European Maritime Day (EMD 2023) workshop 'Sustainable ocean observation, from open sea to coast: shared responsibilities', to take place on on 25 May 2023 at 14.30 – 15.45 CET. The event is co-organized by Ifremer, Eurofleets+, Euro-Argo ERIC, Esprit de Velox, EMODnet, EOOS, and EuroGOOS. 
In the face of climate change and loss of biodiversity for which the ocean is steering the future of our planet, ocean observation is key to preserving the ocean as a common good of humanity and to deliver the European Green Deal. Today, European ocean observing is not sustainable, lacks coordination and support, and its trajectory is not convergent with the greenhouse gas reduction targets by 2050. It is relying on marine research infrastructures and observing networks mostly financed from research resources by nations with a maritime coastline. Despite the obvious progress made in recent years, this cannot satisfy the needs for exponential growth and profound technological refoundation.
Coordinated and optimised for efficiency, cost and intrinsic environmental footprint ocean observation from open sea to coast is paramount for sustained and reliable provision of oceanographic services and information. This workshop will discuss how the ocean observing stakeholders are consolidating efforts to limit the duplication and promote long-term coordination and sustainability. We will discuss the challenges we face and solutions our communities offer in delivering a common ocean observation strategy.
Register to EMD and our workshop (25 May, 14.30-15.45) here
The post EMD 2023 Workshop Sustainable ocean observation: shared responsibilities appeared first on EuroGOOS.
Call for abstracts is open for the EuroGOOS International Conference (3-5 October 2023, Galway). Deadline for submission is 16 April.
This year marks an anniversary edition of the EuroGOOS Conference, which has provided a focal point for European operational oceanography for nearly 30 years. This edition has been endorsed as an official event of the UN Decade of Ocean Science for Sustainable Development 2021-2030.
The Conference will offer an opportunity to discuss how well our ocean monitoring and forecasting are supporting societal and policy needs. The event will facilitate dialogue among a broad range of ocean observing and forecasting stakeholders, towards a fit-for-purpose ocean information delivery.
The key priorities of the 10th EuroGOOS International Conference are:
Analyse the state of the art and defining emerging priorities in operational oceanography;
Advance the European Ocean Observing System (EOOS) framework towards the sustainability and integration of in situ observations;
Develop a seamless forecasting system of the European seas and global ocean;
Strengthen the responsiveness of European operational oceanography to policy and governance needs;
Foster engagement of all stakeholders to co-design the European operational oceanography;
Promote diversity, equity and inclusivity in oceanography and ocean science;
Integrate European operational oceanography into the global context.
Discover the full call for abstracts on the Conference website: Eurogoos-conference2023.marine.ie.
This event is co-organized by the EuroGOOS Office and the Marine Institute, Ireland. This is an event of the UN Decade of Ocean Science for Sustainable Development 2021-2030.

The post EuroGOOS International Conference – Call for Abstracts open! appeared first on EuroGOOS.
The EuroGOOS Office is leading stakeholder engagement in the EU DOORS project, Developing Optimal and Open Research Base for the Black Sea. As part of stakeholder engagement, national Multi-Actor Forums (MAF) are held, facilitated by Athena RC, Greece. The events are taking place in Bulgaria, Georgia, Romania, and Türkiye during 2022 and 2023. Scroll down to see some pictures. 
The first round of MAF workshops were completed on The World Wetlands Day of 2 February 2023 in Batumi, Georgia. At the Georgian MAF, tourism and fisheries were highlighted as essential socioeconomic sectors in the eastern Black Sea – both Georgia and Türkiye intensively fishing in this part of the Black Sea basin. Coastal hazards have been identified as another important topic for the stakeholders. Pervasive nuisances with coastal erosion will be significantly exacerbated with imminent climate change induced threats, such sea level rise and more frequent coastal floods. Even tornados, almost never heard of in this region, are becoming increasingly common amid climate crisis.
The participating stakeholders of the Romanian MAF, which took place in Constanta on 25 January 2023, prioritized such topics as marine research and development, tourism, ocean renewable energy, and fisheries and aquaculture. Furthermore, the need to harmonise local legislation alongside the European model was identified as a key objective in order for these different sectors and regions to effectively work together and sustainably use the coastal resources. While the Romanian Black Sea coast enjoys a vibrant tourism industry, there are many other unexploited resources such as protected areas, archaeological and geological sites, and adventure and vineyard tourism to maximise the potential of the region.
The Bulgarian MAF took place on 18 November 2022 in Burgas. The most prominent topics of the day were the importance of tourism as a significant contributor to the country's economy. The sector contributed 15% of the GDP and supported 150,000 workplaces in 2014. Sustainability of tourism and new areas such as ecotourism were discussed. The stakeholders also stressed the lack of marine knowledge and information for the blue economy users.
On 9 November 2022, the DOORS Turkish MAF took place in Trabzon. In the meeting, we heard growing concerns expressed about Black Sea fish stocks and the impact of plastic pollution. The participants also saw tourism and maritime transport as important areas of further growth. 
Alongside our stakeholder engagement activities in DOORS, we have also started the work on engaging youth and general public. On 1 February 2023 in Trabzon, Türkiye, the DOORS Ocean Literacy Network was kicked off. The Network will contribute to the EuroGOOS Ocean Decade project Scientists for Ocean Literacy. It is bringing together academia and NGOs, as well as experts in science-policy engagement, stakeholder management, and communicators. 
The post DOORS Multi-Actor Forums for the Black Sea and new Ocean Literacy Network appeared first on EuroGOOS.
---
See more in our News Archive