The EuroGOOS Executive Directors Board met at the EuroGOOS office in Brussels on 27 and 28 January. The meeting addressed the implementation of the EuroGOOS strategy in the EuroGOOS regional systems (ROOSes), as well as the working groups and operational task teams. The Board welcomed the ongoing work with the global networks GEO and JCOMM and the recent appointment of EuroGOOS Chair Erik Buch as member of the GEO Programme Board. A special emphasis was made on the development of the integrated European Ocean Observing System (EOOS). The Board agreed on the need to establish an expert panel to steer the development of the EOOS roadmap. EuroGOOS has taken the lead in promoting the EOOS concept and will launch a dedicated EOOS website.
EuroGOOS is working with regional conventions on the intermediate assessments for MSFD due in spring 2016. To this end, the Executive Board approved the organization of a special session on MSFD at the EuroGOOS General Assembly (25-27 May 2016, Brussels). The session will discuss oceanographic products with an emphasis on supporting regional assessments and other applications including storm surge forecasting and products for fisheries and ecosystems. Speakers and invitees to the session will include EC DG Environment, JRC (including their storm surge initiative), regional conventions and EuroGOOS ROOSes. To enhance the work on the requirements for the oceanographic products, a closer collaboration with the ICES Working Group on Operational Oceanographic Products for Fisheries and Environment (WGOOFE) was welcomed.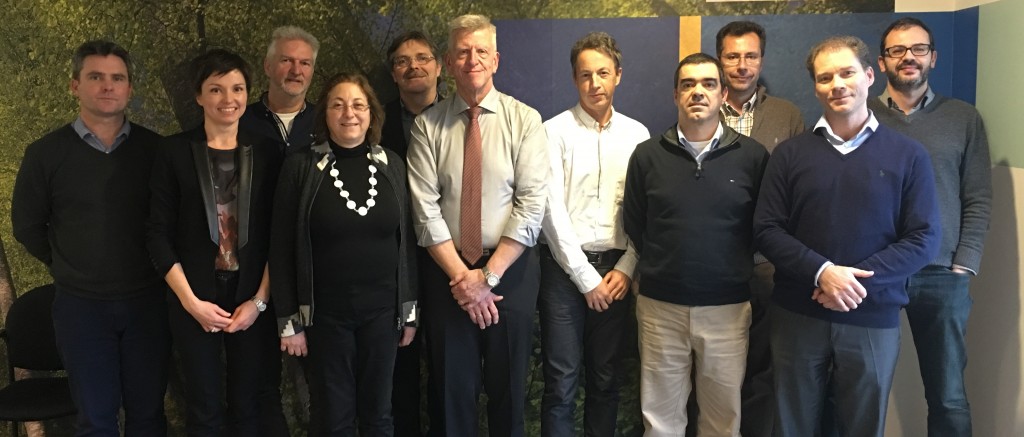 The image features, from left: Glenn Nolan (EuroGOOS Secretary General), Dina Eparkhina (EuroGOOS office), Bernd Brügge (EuroGOOS Board/BSH, Germany), Rosalia Santoleri (EuroGOOS Board/CNR, Italy), Urmas Lips (EuroGOOS Board/MSI, Estonia/BOOS Chair), Erik Buch (EuroGOOS Chair), Pierre-Yves Le Traon (EuroGOOS Board/Ifremer, France), Antonio Martinho (EuroGOOS Board/HI, Portugal),  George Petihakis (EuroGOOS vice-Chair/HCMR, Greece), Patrick Gorringe and Vicente Fernandez (both EuroGOOS office)
The post EuroGOOS Executive Board meeting: main outcomes appeared first on EuroGOOS.