Moving onto a new year which will mark the beginning of the UN Decade of Ocean Science for Sustainable Development, let us look back at the year we are leaving behind. 2020 will be remembered by the global pandemic that affected our Members and team, both personally and professionally. Operations at sea were stopped, engagement opportunities frozen, life-work balance strained – just to name a few of the challenges we faced this year. But incredible as it was, the EuroGOOS Members and the Office achieved new heights and supported some major organization's actions for the coming years.
Our new 2030 Strategy was adopted by the Members at the EuroGOOS General Assembly in June. The Strategy sets out an ambitions framework to foster our impact and engage more strongly with all areas of ocean observing. For years, EuroGOOS has strengthened operational oceanographic cooperation, and has contributed to the delivery of some of the core European operational services we have today. The new 2030 Strategy will help us expand to the areas of operational data collection, forecasting and service provision for ocean health and climate. We will continue fostering communities of practice, partnerships, and advocating for ocean observing sustainability and fitness for purpose. We will also continue making societal engagement part of our priorities. Citizens' understanding of the importance of oceanography and value it brings to their daily lives – from weather predictions, to climate research, to maritime operations and coastal security – is key to sustain our work.
We welcomed our new Secretary General and first woman to hold this position in EuroGOOS' 26 years of history, Dr. Inga Lips. We wish to thank Dr. Glenn Nolan who held this position for the last five years. The Office has also grown with new members joining the team.
44 Members of EuroGOOS from 18 countries and our five Regional Operational Oceanographic Systems (ROOS) were engaged in our Working Groups and Task Teams which bring European added value of cooperation in various areas of oceanography. Through meetings, research, and engagement with stakeholders, we believe our activities have made EuroGOOS much stronger this year. These achievements are too many to list and span coastal services, infrastructure reviews, ocean literacy, and new observing technologies. To strengthen the joint impact of the EuroGOOS numerous bodies, integration workshops took place to enhance the transfer of best practices and cross-fertilization.
An external review was conducted for the first time, providing key insights into the various aspects of EuroGOOS activities, strategy, and way forward. The review highlighted the unique and well-established role of EuroGOOS as a hub and voice for European ocean observing adding value to its Members and broader community, catalyzing new ideas and initiatives, strengthening regional coordination, and enhancing synergies among stakeholders.
Several projects started their active work in 2020 in which the EuroGOOS Office represents the priorities of the organization – all contributing to various aspects of the ocean observing and forecasting value chain. These are: EuroSea, Jerico S3 and Jerico DS, FORCOAST, and a new Copernicus In Situ Coordination project. SeaDataCloud project ended having achieved new important milestones towards quality ocean data aggregation at the EU level.
We have continued to actively work with partners towards a shared European Ocean Observing System framework, EOOS. The EOOS implementation plan, adopted in 2018, was updated with more actions completed – such as the EOOS Technology Forum, organized by our Technology Plan Working Group. We have helped strengthening the EOOS governance working with the European Marine Board with whom we co-chair the EOOS Steering Group and Advisory Committee. The EOOS Operations Committee started its work in late 2020.
This has been another fruitful year for EuroGOOS despite the unexpected and severe pressures caused by the pandemic we all have experienced this year. We wish to recognize the enthusiasm and continuous belief in EuroGOOS by our Members and ROOS, as well as the dedication and professionalism of our tireless Office team. Let us list the members of our Office: Orla Colligan, Ana Lara-Lopez, Ruxandra-Laura Bosilca, Erik Buch, Vicente Fernandez, Dina Eparkhina, with Inga Lips at the helm of the team.
Merry Observing and Happy New Year!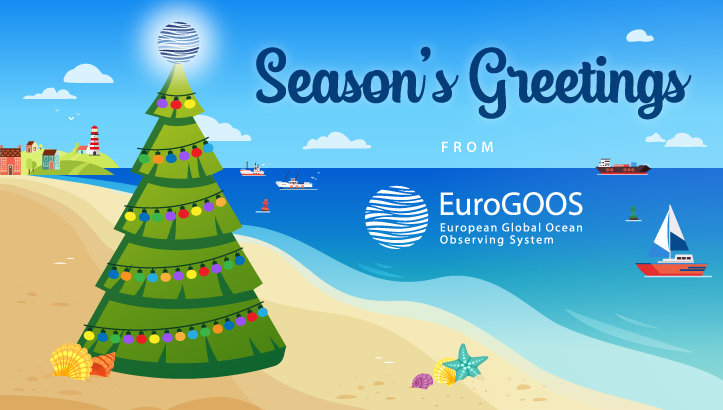 The post Looking back at 2020 and wishing you Merry Observing and Happy New Year 2021! appeared first on EuroGOOS.